AboUT...We are currently booking For Fall of 2023 and Winter of 2024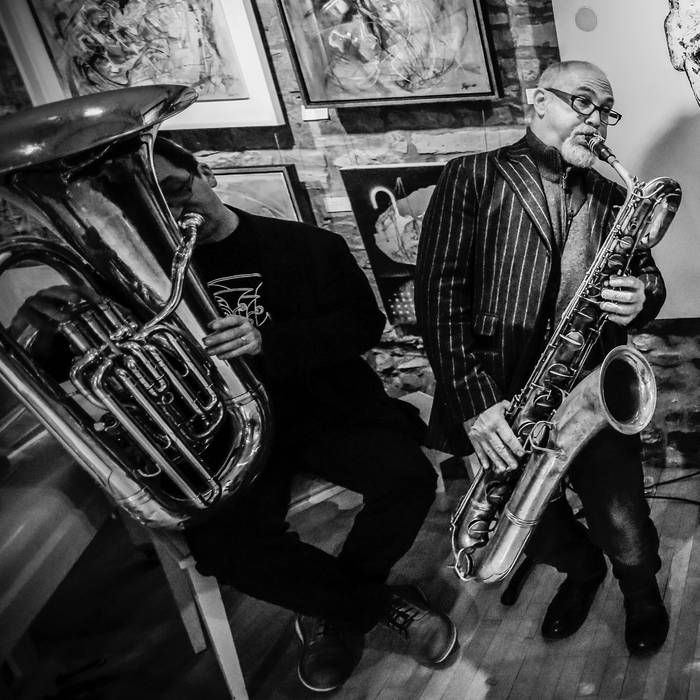 Who is TuBari?
TuBari came together by the love and admiration for the late Howard Johnson shared by saxophonist Erik Lawrence and tuba player Keith Hartshorn-Walton. Along with the very expressive and creative drummer Bram Kincheloe, they have come together in a unique ensemble that features Johnson's two main instruments. Erik and Keith were both performers at a gala tribute concert in Howard's honour in 2019, where they decided they wanted to work together in the future. Erik visited Ottawa the following year for a series of concerts, and Bram was added for a proposed recording that was cancelled due to the pandemic. They persisted, however, producing various projects completed at a distance and combined virtually. They were featured performers at this year's virtual International Tuba and Euphonium Conference. Their music draws on soulful jazz and rock classics, original compositions, as well as wild jams and beautiful lyricism that will surprise expectations.
Erik Lawrence
Erik has often been found support of a wide variety of legendary artists, counting his time with masters from many genres as part of his foundation, among them:  American music masters: Levon Helm, Chico Hamilton, Sonny Sharrock, Hubert Sumlin, Buddy Miles, David Amram, Henry Butler; from the Spiritual music world Yungchen Lamo, Nawhang Khechog, Gabrielle Roth. He has gratitude for a more than 20 year association with modern jazz master Steven Bernstein and has played and recorded with Spin Doctors, Bob Dylan, Elvis Costello, My Morning Jacket, Roger Waters, Joan Osborne, Bob Weir, Phil Lesh, Aaron Neville, Big Chief Russell Moore, The Levin Brothers (Tony Levin and Pete Levin), and with the Jose Limon Dance Company.  In addition Erik has worked with tea masters playing Tea Ceremony meditation music. 
In addition, Erik is a published journalist, poet and photographer. 
The son of a renowned jazz saxophonist and educator, Arnie Lawrence, Erik began playing saxophone at the age of five. Since he has studied composition, music from around the world and has collected and dedicated himself to the study of flutes he has found in his travels to 41 states and 27 countries.
He currently resides in Pittsburgh, PA
Bram Kincheloe is a professional musician, writer, and small business owner. He attended Manhattan School of Music. While at Manhattan, attending on a Zildjian scholarship, he studied with Justin DiCioccio. During this time, he also studied composition and piano with Garry Dial, and was involved in various recording and performing projects headed by Dick Oatts, Steve Slagel, Kenny Wollesen, and many more. Through the years playing jazz, he has been honored to play with Lee Konitz, Branford Marsalis, Ambrose Akinmusire, Wynton Marsalis, Ben Street, Steve Cardenas and many others.
In 2008, he helped form the soul-rock band Sister Sparrow & the Dirty Birds with two of his cousins. The band subsequently landed a much sought after residency at Rockwood Music Hall, building a large, devoted following. In 2011, they signed with New Frontier Touring, and began playing upwards of 175 shows a year, all across the USA, Canada, and beyond. Bram played many of the largest festivals in the world, including Bonnaroo, Voodoo Fest, Cotai Jazz and Blues Festival (Macau, China) and Hardly Strictly Bluegrass Festival. The also opened for such acts as The Avett Brothers, Dr. John, and The Black Keys. While with the band, he recorded three albums, the last of which was produced by the famed bassist and producer Randy Jackson, of American Idol and Journey fame. Bram left the band in late 2014 to pursue a career both as a freelance musician and as a writer. Bram is an accomplished singer-songwriter and multi-instrumentalist and plays piano, keyboards, guitar, and bass in addition to drums.
Keith Hartshorn-Walton has performed across North America.
Originally from Winnipeg, Keith toured extensively with the Foothills Brass Quintet.  He has performed with Clark Terry, Louis Bellson, Quinsin Nachoff, as well as orchestras in Edmonton, Calgary, Oshawa and Kingston.  In 2019, he was invited to participate in a gala tribute concert to Jazz tuba legend Howard Johnson. In 2021, he was featured at the 2021 ITEA Virtual Tuba-Euphonium Conference with Tubari, as part of the "After Hours" series. In Ottawa he can be found in bands as diverse as The Bank Street Bonbons, Safe Low Limit (an all-bass clef jazz group), Linsey Wellman's Wedding and Funeral Trio, and particularly Mélanie E., a quartet featuring his wife Mélanie Hartshorn-Walton on French Jazz vocals.
In addition, He received his Doctorate of Music from McGill University in 2010, and has studied with Dennis Miller and Mark Tetreault, and McGill and the University of Toronto, respectively.